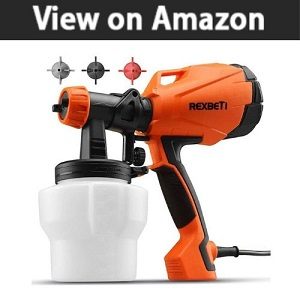 REXBETI Ultimate-750 Paint Sprayer is a nice product for painting your house.
It is also suitable for a table, Chair, car, shutter, and any wood furniture. It's really handy and anyone can use this product very easily. This product is worth buying for the price, it's great quality. No stipple and no brush marks.
REXBETI Ultimate-750 Paint Sprayer Specs
Product Name: REXBETI Ultimate-750
Product Brand: REXBETI
Model Number: REX004
Price: $69.999
Product Weight: 3.59 pounds
Product Dimension: 11.8 x 5.5 x 11.4 inches
Rated Power: 500W
Flow Rate: 750ml/min
Max. viscosity: 70 DIN-s
Container capacity: 1000ml
What's Included: 1 * REXBETI HVLP Paint Sprayer, 1 * User Manual, 1 * Paint Container, 1 * Viscosity cup, 1 * Cleaning Needle
Pros
High power & Superior finish
3 Spray patterns
3 Nozzle Sizes
Adjustable flow control
A lot of accessories
Suitable for table, Chair, car, shutter and any wood furniture
Cons
Price is a bit higher
Need to be careful about overspray
Features of REXBETI Paint Sprayer
High Power & Superior Finish
With 500 Watts of power, the Ultimate-750 provides a precise texture sprayer pattern, creating a smooth and superior finish. With 1000ml high-capacity container, it will be your best electric paint sprayer for tables, chairs, fences, interior walls, and crafts.
3 Spray patterns
The Ultimate-750 paint sprayer can be adjusted to 3 different spray patterns. the Patterns are horizontal, vertical, and circular, equipped with 3-size nozzles(2.0mm/2.5mm/3.0mm) for any painting projects.2.0mm and 2.5mm nozzles are great for thin paints like sealers and varnish.
3.0mm nozzle is great for spraying latex paint, chalk-type paint, and milk-type paint. Simply rotating the spray tip to adjust 3 different spray patterns. The flow control knob is a smart design for you to adjust the flow rate at any time.
Adjustable Flow Control
Regulate your paint output by adjusting the flow control knob on the sprayer to get different paint output, suitable for edges, corners, and broad interior surfaces of various work and DIY projects.
You can turn the flow control knob to adjust the flow that you need. Ergonomic design with a soft handle provides helps you to get the job done with ease. Choose RexBeTi's paint sprayer, it will be a great choice for small projects.
Powerful Paint Sprayer
REXBETI Spray gun is suitable for table, Chair car, shutter, and any wood furniture. Equipped with 3 different sizes nozzles to meet any tasks.
The detachable design offers quick and easy cleaning after spraying. With the 1000ml container, you don't need to add the paint frequently.
Easy to Use
This paint sprayer is user-friendly, easy assemble, and easy spraying. With packaged cleaning attachments, you can clean it easily and efficiently.
Easy to Wash
First, taking care of it will go a long way. If you clean it properly at the end of each use, you won't have any issues. Soapy water does wonder.
When starting to paint, watch out because occasionally the first spray flicks out a bit of built-up splatter most of the time that can actually be avoided by just wiping off the build-up on the nozzle.
Handy & Lightweight
Ergonomic design for homeowners. Just plug it in and create a colorful house with REXBETI ultimate-750 paint sprayer. The 6.6 Ft power cord is long enough for you to move freely in a large work area. REXBETI paint sprayer with lightweight and handy size fits perfectly in your hand and let you spraying longer without fatigue.
REXBETI Ultimate 750 Paint Sprayer Problems
Do not use this product in a warm and dry climate. You will want to use this machine super early in the morning if your area gets to 80 degrees F and low because of the paint drys around the needle and inside the tip.
Think about this machine as the equivalent as a spray can quality finish, actually, a bit more speckled. It would be great for speckled textured paint effects like two-color, green base with some copper speckles or vice-versa (vintage copper?).
The cord was not long enough to work in a large area. You will need to use an extension cord. I wasn't sure how far or close to hold the sprayer away so there were a few runny spots but nothing that kept me from stopping. I felt that the sprayer started to run hot after long term use so I had breaks in between to ensure nothing happened to it.
Competition: Similar options on the market
Wagner Spraytech 0520000: Wagner Spraytech is one of the great brands to paint sprayer in the market.The Wagner Power Tex paint sprayer is designed to apply a textured finish on your ceiling, walls, and other hard surfaces.
There are three nozzles included with this paint sprayer. You can use the included interchangeable nozzles to expertly create acoustical popcorn, knockdown, and orange peel textures. It is easy to learn and easy to use.
The trigger does not start the gun blowing, that is the switch on the back of the motor, kind of hard to reach and easy to miss.
Hiltex 31229: Hiltex 31229 Pneumatic Air Texture Spray Gun is an effective product for unprofessional painters. Anyone can easily use this product at home. This gun comes in two pieces. The gun itself and the actual hopper. There is an area on the gun that the hopper fits on top of, there is an o ring there for a seal.
You need to push on the hopper quite a bit to get it on there but you won't have to worry about it coming off. There is also a metal clamp to use after you install the hopper. This creates a nice seal and so far, I haven't had any problems.
FAQ About REXBETI Ultimate 750 Paint Sprayer
Bottom line
Overall, This paint sprayer is a good worth and also works well. The sprayed areas did show very good consistent results.
The sprayer comes with all you need to get started other than paint, thinner, a paint strainer/filter, extension cord, and an over-sized paint bucket to mix.